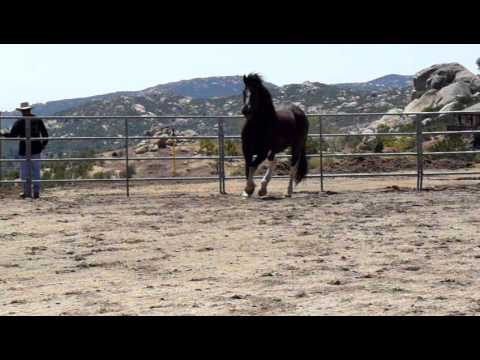 1 tag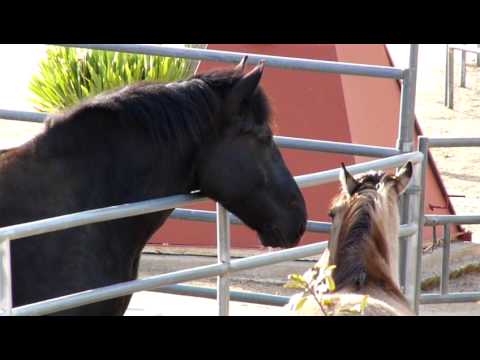 Watch
Look what I saw on the computer just now! I want to be this horse when I grow up. My humans went to Equine Affaire yesterday and saw this horse and rider. His name is Big John, and his human is Jena Bengtson. I think he looks just like me, almost, except that he is a whole 12" taller than me, and a few years older. Otherwise it could be me! Except that I can't do those things yet....
Watch
I figured something was up this afternoon when I saw my human laying out my long lead-rope-things on the lawn. We have done some of this fancy walking around before in lessons before, but never at home. I have to say it's very easy - not really even work - but still… It was time to get out and run around, not time to work. You can see Eeyore was beside himself that I got to go out and...
3 tags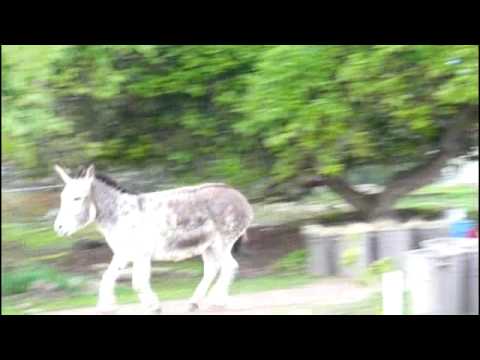 1 tag
Hey! Follow me on Twitter, too! →
You can also find me on Twitter: http://www.twitter.com/RainyTheHorse My name there is @RainyTheHorse, and I post little snippets about my day. So far I have 44 friends. One is @FizzTheHorse, and there are some very fun, nice people, too. A few are animal communicators. They don't have to use Twitter to talk to horses - they talk to them directly. Come hang out with us!
2 tags
1 tag
6 tags
Busy Weekend - 2 Lessons, & New Clothes!
I've had a very full weekend! I had a lesson on Friday, wore my new clothes for the first time on Saturday, when it rained, and had another lesson on Sunday. On Friday my human and I went to the mountains to work with Peggy, our trainer-friend. Peggy is very nice, but doesn't let me get away with things I can normally get away with, like pushing people out of the way with my nose....
2 tags
1 tag
1 tag
7 tags
A whole brand new year!
Hello everyone, and happy new year! I hope your holidays were awesome, and that you got lots of grazing time and King Leo's peppermint sticks, like I did. I've been busy some, and lazy some, so I haven't posted lately. I've done lots of cool things, and have more fun stuff coming up soon, so I'll be posting more now. My human says we're going back to basics....
My Lesson in the Mountains
OK, I've had my breakfast, a good roll, and a long nap in the shade. A good day so far. Now I have a bit of time before dinner, so I'l finish my story about yesterday's lesson in the mountains. (If you missed it, look at the post before this one, in which I tell about getting there, and walking to the arena.) Before we could play in the arena we needed to open a gate. It had a...
My Human is Starting to Catch On
Yesterday my human and I went to the mountains for a riding lesson. It's been a long while since we've been out anywhere, although she has been riding me a little around the yard from time to time. I was glad to see that she remembered a lot from our previous work. First, she wasn't rushed or stressed out, so I was able to stay relaxed. Next, she has finally learned that...
What is This "Work Ethic" You Speak of?
My human rode me around the yard a little yesterday evening. Well, she tried to. I was more in a mood to stand around and eat. And when I did walk around I grabbed leaves off the trees. I cooperated a little bit, but I made her work hard to get me to move at all. I'll bet her legs are sore! She was really pleased with me when I trotted a few steps, and called it a day. She went to a...
Happ'nings Around the Place
Not a lot to report from the past week, but I'll tell you what there is to tell… Our human has been doing a lot of clean-up work around the yard, removing the yucky-tasting mustard weeds. Parts of the yard are looking quite civilized and tidy. Last night she came out and cleaned and cleaned our pen, until it was too dark to see. I can't count exactly, but there are a lot of...
Watch
There sure was something in the air last night! Fireworks! A lot of them. I thought something weird was up, because lots of neighbors were outdoors, with music playing, and kids running around. Then after dark our humans came out into our pen, and brought two of their human friends. Now that just never happens! So the donkeys and I were just checking out their hands and shoes, and seeing who was...
Something's in the Air
There is something odd going on, but I'm not sure what it is. For the last few nights we've been hearing booming like thunder in the distance, always at the same time, but there are no clouds or rain (darnit). It's really hot lately. We could sure use a good rainstorm. I love rain. Today our human cleaned all our water tubs and filled them with fresh water, and made sure we had...
This is Just Ridiculous
OK, I know there are hot days in summer, but come on! It was blazing hot yesterday. Today is going to be just as hot. Our human put our breakfast hay under some big shady trees in the yard. We have shady places in our corral, too, but this is nicer. She said I'm not going to an obstacle training clinic today. Good thing. I think obstacles are to be avoided. Why go looking for them,...
Watch
It's Too Hot, But I Have a Pool! My human got me a pool to splash in. How cool is that? It was nearly full when I started playing in it. I think the point is to paw and paw until all the water is everywhere.
I'm back! Let's go out again!
I thought something was up, and I was right! Yesterday I thought I was going to just get treats in the trailer again. Well, I did get treats for getting in, but then we went someplace. It was far, and the ride was hot, even with all the windows and air blowing around. We went out to a place I'd been once before, but this time we stayed all night, until the next day. We didn't go out...
An Adventure is Afoot
The donks and I are out on the lawn, grazing, and eating the hay on the lawn - there isn't much grass, but it still feels like we're out grazing, like a picnic. Hay tastes better on the lawn. My human is bustling around gathering things up and putting them in the truck and trailer. She says we're going somewhere fun, and I'll be glad I got into the trailer. She says there...
Lions and Tigers and Coyotes, Oh My!
Well, OK, just coyotes. But they are scary, sneaking around in the dark, cracking sticks, and throwing shadows under the trees. I ran around with my head as high as I could hold it, snorthing and blowing something fierce. I think I scared them off. My human put the cats in the house and looked around with a bright light to make sure the coyotes were gone, then she fed us our dinner. A bit late,...
Trailers Are Cool.
Today I got to work on loading into the trailer again. I got pretty excited about the idea, when I saw that's what we were going to do, because yesterday there were a lot of Apple Jacks being handed out in there, so I was eager to see if there were more today. And there were! I got treats for getting in, and treats for staying in. Treats for letting her shut everything up, and treats for...
Barn Full of Food! Yeah!
Feed Man came and filled the barn with yummy hay for us. When he saw how big my head is he wasn't sure the X-Large fly mask he brought would fit. It does, but barely. It'll do - it keeps the flies out of my eyes. And it's got fancy maroon fleece around the edges. My human likes it because it has some Velcro trick that I can't undo easily. Hmmph. No fun.
Feed Delivery Day!
Today is a big day. Today is Feed Delivery Day! I'm grazing now, but later Feed Man (a horsey superhero of sorts) will be here with a truckful of hay for me and my donkey buddies, Eeyore and Clementine. We stand at the gate and supervise as he unloads and stacks our hay. Today he's bringing us new fly masks, too, since we've torn our old ones to shreds. Yay, Feed Man!
Trailer Loading Practice
I was supposed to have a lesson up in the mountains today, but I wouldn't get into the trailer to go. After 2 hours of progressively worsening attempts, my human gave up in utter frustration and called off the lesson. Then we started working on a new thing: clicker training. It involved a lot of Apple Jacks cereal, and a little noisemaker thing. Hey, just tell me what I need to do to get...
A Geeky Word from My Human
My human, geek that she is, asked if she could put a link on my blog, so people could find it more easily. Since she feeds me carrots twice a day I figure I can go along with the plan. Here's the link: http://www.blogcatalog.com/directory/pets Pets. Hmmph. I'm a great big handsome equine, not some fluffy lap dog. Ooh! Are those carrots? Gotta go!